Styling Sonsi Collection at FFF Week 2013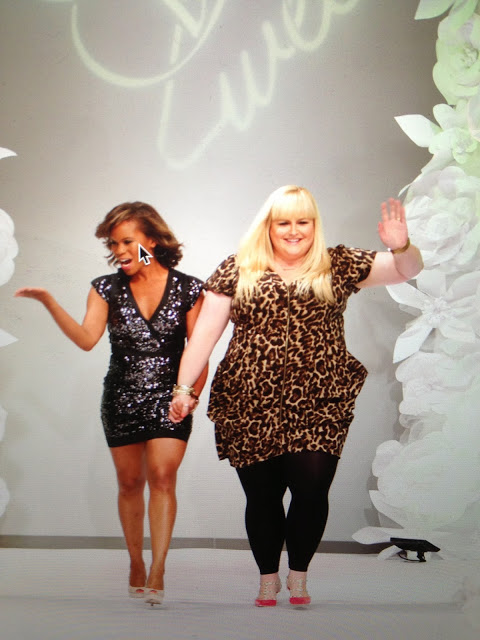 Another
Full Figured Fashion Week
has come and gone, and what an efficacious week it was!  The whirlwind week was a complete success, filled with exquisite plus size fashion, amazing collaborations, and gorgeous fashionistas at every event.
This year I was thrilled to partner with the FFF Week headlining sponsor,
Sonsi
, to curate and style their runway show for the Retailers Finale Showcase.
Our approach to their featured collection was trend focused, wear now styles for every body type that can be taken straight from the runway and into your closet for the summer season.
Bright colors, bold print mixing, peplums, classic A-line dresses, florals, stripes, polka dots, printed pants, body con dresses & skirts, sheer sleeves and panels, moto jackets, emerald green, spike detailing, black and white, casual meets sequins, and the fancy maxi, all layered to perfection and tied together with bold statement jewelry and colorful accessories for a polished, wearable look.
Dots / Flora
Brittany Cordts
Bright tangerine peplum top paired with a floral pencil skirt and topped with colorful accessories, including spikes and dots double skinny belts for an extra layer of texture and polish.
Stephanie Battista
This amazing floral faux wrap dress is perfect for summer! The surplice top is flattering for larger busts, and the printed a-line faux wrap works to balance and camouflage the mid-section.
quick tip 
Nude pumps on a bare leg work to lengthen and give the illusion of more height!
Maria Santiago
Just the right amount of sassy polka dots and sheer flowing flirtiness, cinched at the waist
to create an hourglass shape… perfected with bright pops of color in the accessories.
Call of the Wild / Mixed Prints
Aryn Terry
Double exposure cut-out top with zipper detail, tucked into a sleek pair of high-waisted animal print harem pants and finished off with a sheer sleeve faux leather moto jacket and a bit of bling on the neck.  Print mixing perfection!
quick tip
Sheer sleeves on a jacket make it wearable, even in the warmer summer months!
Samantha Lebbie of
IPM Model Management
The modern pin-up- classic, sexy, and chic! The sweetheart neckline highlights the bust, and faux wrap cinches perfectly at the waist, to accentuate curves for days!
quick tip… 
Sleeves ending just at the elbow offer extra arm coverage
& also add emphasis to the waistline!
Michele Hilton
Unexpected print mixing shown in a bold, sassy ensemble, accentuated with gold accents.
Short and sweet with a huge impact!
Black / White
Nedra Phillips
Abstract animal print body-con dress with playful one-shoulder detailing.
Ideal for "more on bottom" and hourglass body types.  Flaunt those curves!
quick tip…
One-shoulder styles will draw attention to the shoulders and neckline, 
which balances out bottom heavy shapes.
Chasity Saunders
Monochromatic print mixing for an edgy, rocker chic look, complete with a red statement bootie.
This moto jacket stands on its own! No shirt required!
Green with Envy
Lauren Riser
Black & white printed pants make a statement, but still let this cold-shoulder top shine.
Casual yet polished, super wearable, and fun!
Jessica Likas
The color of the season, shown in a classic silhouette, perfect for all body types.
Sweetheart neckline, accentuated waist, a-line skirt, and sleeves that hit just at the elbow.
No brainer!
Colleen Stovall
The little white skater dress with a sheer peek-a-boo at the bust.
Tie it all together at the waist with a hard core statement belt and add a fierce heel! BOOM!
Casual Meets Sequins
Telethia Penn
A bright sequined tank with a playful sheer skirt and sleek denim jacket…
Sequins and shimmer for day or night!
Tinder Badhesha
A casual denim shirt with an elegant sequined ball gown.
An unexpected combination of classic sophistication. It works.
quick tip
Pair a high-waisted bottom with a button down shirt 
tied at the natural waist for a perfect hourglass shape!
Chelsea Boisseau
Hard meets soft with a one-shoulder sequined cocktail dress paired with a sheer, spiked
faux leather zip jacket and a sexy bootie. A modern twist to a classic cocktail style.
The Fancy Maxi
Sommer Green
Who says a maxi dress can't be sexy?
Head-to-toe nude look, fitted along the hip & leg to highlight curves,
and a flowing cape for a perfectly dramatic finish!
Shop the collection here! 
The show was a smash, and I left NYC feeling inspired and enthusiastic about the plus fashion industry and what lies ahead.  I have to say that overall I am very impressed with the plus size fashion that I saw this year at FFF Week, on the runways, at the blogger conferences and fashion previews, and especially on the fabulous attendees.  The events were full of gorgeous women who were taking risks, showcasing their personal style with no apologies, and definitely "thinking outside the fashion box".  It was so refreshing to walk into the FFF Week events and be excited about what surrounded me.
Which Sonsi FFF Week runway look is your favorite? 
Special shout out and thanks to may AH-MA-ZING assistant Ashlee! Best assistant ever!
Images courtesy of Alec Turner | TurnerFamilyPortraits.com©